Your bill provides an overview of your charges for that billing period, including service, data plan, device charges, and applicable taxes, fees, and other charges. Your charges may vary based on your data plan, the devices you finance from Optimum Mobile and your state.
Below is an explanation of the sections and charges that may be included on your PDF bill:
Summary
The summary consolidates all the charges, credits, and payments. You will see the total amount due on your due date, each line associated with your account, and the price per line excluding taxes, fees, and other charges.
- Bill Date: This is when your billing cycle starts.
- Due Date: This is when we will charge your amount owed every month. It will be 10 days after your billing cycle starts.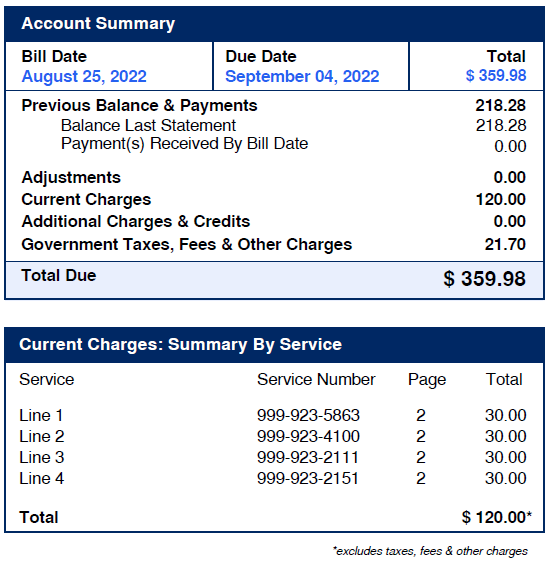 Previous Balance & Payments
Previous balance and payments will appear in this section. Any Top-up or Travel Pass purchased on the previous billing cycle will appear as a Previous Balance and a "Pre-Payment" credit.

Current Charges
Each phone line will appear on a separate line on your bill, under the phone number for that line. You'll also see listed for that line:
- Plan Details: Your data plan, price, and any qualified/enrolled discount and promotion in your lines.
- Equipment: Each phone financed will be listed under the Equipment section. You'll see the monthly cost under the phone number and the commitment terms. The payment date for each service line is shown and may differ from each service plan date.
- One-Time Charges: Data Top-Ups and Travel Passes are charged at the time of purchase. You will see this reflected on your bill with the date you purchased the Data Top Up. For your records, your next bill will include a charge for the Data Top Up* or Travel Passes under Additional charges & credits and credit for it under Previous Balance & Payments.
Additional charges & credits
There are additional fees that could appear on your bill. Here is a list of the fees and what causes them:
- Late Fee: A one-time $10 late fee will be applied to next month's bill if you do not make a payment within two days of your bill due date.
- Restocking Fee: A one-time $50 fee for any returned device.
- Missing Accessory Fee: A one-time $75 fee for any device returned with missing accessories.

Government Taxes, Fees & Other Charges
Depending on your service and the state you live in, you will see an itemized list of taxes and Government fees on your Optimum Mobile bill. These are dictated by your local state governments.