You can start your number transfer before we deliver your SIM card. This will ensure your phone number is ready to use as soon as you activate your SIM card.
Important: If you start your number transfer before your SIM card is delivered, you will temporarily lose access to your current phone number. The account with your current carrier must also be active to bring your number over, so do not cancel it.
After your SIM card is delivered, you should activate your service to complete your number transfer:
1. Sign in to MyMobile
2. Tap Transfer a number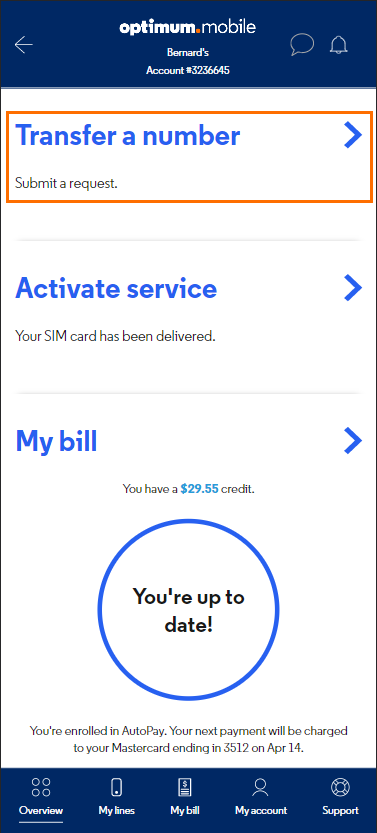 3. Select your number
4. Tap Continue
5. Enter your Account Number, PIN, last four digits of your SSN and ZIP code, then tap Start Transfer.
You will receive an email or text message from us if you entered incorrect information during your transfer request. You will then need to sign in to resubmit your request.
If you did not receive a notification from us and the status of your transfer does not update after 24 hours from "Request submitted," contact your carrier for assistance.
For further support transferring your number, contact us to reach an Optimum Mobile expert 24/7.